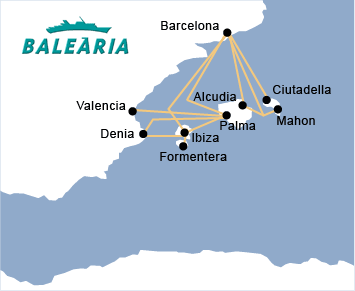 About Balearia Ferry
Allferries.co.uk has a partnership with Balearia Ferry allowing us to sell their routes online and in real time. Below is information about Balearia Ferry.


Initially, Balearia operated the Denia-Ibiza-Palma routes (ferry services), Ibiza-Formentera (ferry services and high-speed vessels), Ibiza-Palma (ferry services) and Denia-Ibiza (ferry and Ro-Ro services). Those routes were completed with the Valencia-Palma route (Ro-Ro cargo traffic) which was inaugurated in June 2000. The most recent route to be added was between Alcudia and Mahon, which Balearia has operated since July 2002. The inclusion - in June 2001- of Federico Garcia Lorca, a super fast high-speed ferry that operates the Denia-Ibiza-Palma route and also performs direct services Denia-Palma, has meant a complete change in communications both between and within the Balearic Islands.
Balearia still aims at expansion and growth, and is working on future projects such as the incorporation of new lines and the enlargement of its fleet. In October 2002, Balearia launched the super fast high-speed ferry Ramon Llull, built at the shipyard Rodriquez, which will be operational from June 2003.
Furthermor
---
Ferry Operators: Anek Lines Ferry Balearia Ferry Brittany Ferries Color Line Ferry Channel Island Ferries Corsica Sardinia Ferries DFDS Seaways Ferries Eurostar Paris Eurotunnel Fjordline Ferries Grandi Navi Veloci Hellenic Mediterranean Lines Ferry Hoverspeed Ferries Irish Ferries Minoan Lines Ferry Moby Lines Ferries Northlink Ferries P&O Ferries North Sea P&O Ferries Portsmouth P&O Ferries Dover Calais P & O Irish Ferries Pentland Ferries Red Funnel Ferries Scandlines Ferries SeaFrance Ferries SNCM Ferries Stena Line Ferry Superfast Ferries Rosyth Symril Line Ferries Venezia Lines Ventouris Ferries
Ferry Port Maps: Ancona Ferry Barcelona Ferry Bari Ferry Belfast Ferry Calais Ferry Cherbourg Ferry Civitavecchia Ferry Denia Ferry Dieppe Ferry Dover Calais Ferry Dover Ferry Dublin Ferry Fleetwood Ferry Formentera Ferry Genoa Ferry Harwich Ferry Heysham Ferry Holyhead Ferry Hook of Holland Ferry Hull Ferry Ibiza Ferry Larne Ferry Liverpool Ferry Livorno Ferry Majorca Ferry Minorca Ferry Newcastle Ferry Newhaven Ferry Nice Ferry Pembroke Ferry Plymouth Ferry Poole Ferry Portsmouth Ferry Rosslare Ferry Southampton Ferry Toulon Ferry Trieste Ferry Troon Ferry
Countries: Ferry to Denmark Ferry to England UK Ferry to France Ferry to Germany Ferry to Greece Ferry to Holland Ferry to Ireland Ferry to the Isle of Wight Ferry to Italy Ferry to Norway Ferry to Sardinia Ferry to Scotland Ferry to Sicily Ferry to Spain Ferry to Sweden