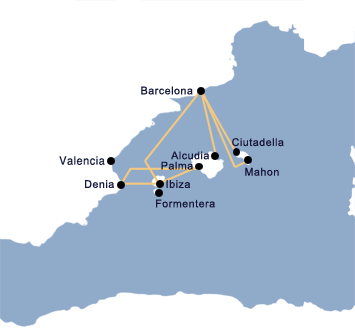 Majorca Ferry Port Information
Below is information about the port, and directions on how to get there. Tickets should be collected from the port office on arrival by showing your booking reference number.


Even if the main tourist appeal of Majorca is the beauty of its beaches and creeks, the largest of the Balearic Islands also has a great variety of landscapes. These include the central plain - which includes El Raiguer, El Pla and Migjorn-, the peaks of Serra de Tramuntana, the small hills of Serra de Llevant and one of the most visited coasts in the Mediterranean sea.
This privileged environment is the reason why millions of Europeans have chosen Majorca as a holiday resort. In order to maintain a balance between urban development and the protection of the environment, many of those rich and assorted landscapes (almost 40%) are protected areas: the natural reserves of s'Albufera, sa Dragonera and Mondrago, Serra de Tramuntana and the Maritime and terrestrial National Park of Cabrera.
The diversity of Majorca not only exists in its landscapes; the city and the countryside also coexist on this Mediterranean island. Along side the cultured architecture of the city of Palma and the aristocratic residence
---
Ferry Operators: Anek Lines Ferry Balearia Ferry Brittany Ferries Color Line Ferry Channel Island Ferries Corsica Sardinia Ferries DFDS Seaways Ferries Eurostar Paris Eurotunnel Fjordline Ferries Grandi Navi Veloci Hellenic Mediterranean Lines Ferry Hoverspeed Ferries Irish Ferries Minoan Lines Ferry Moby Lines Ferries Northlink Ferries P&O Ferries North Sea P&O Ferries Portsmouth P&O Ferries Dover Calais P & O Irish Ferries Pentland Ferries Red Funnel Ferries Scandlines Ferries SeaFrance Ferries SNCM Ferries Stena Line Ferry Superfast Ferries Rosyth Symril Line Ferries Venezia Lines Ventouris Ferries
Ferry Port Maps: Ancona Ferry Barcelona Ferry Bari Ferry Belfast Ferry Calais Ferry Cherbourg Ferry Civitavecchia Ferry Denia Ferry Dieppe Ferry Dover Calais Ferry Dover Ferry Dublin Ferry Fleetwood Ferry Formentera Ferry Genoa Ferry Harwich Ferry Heysham Ferry Holyhead Ferry Hook of Holland Ferry Hull Ferry Ibiza Ferry Larne Ferry Liverpool Ferry Livorno Ferry Majorca Ferry Minorca Ferry Newcastle Ferry Newhaven Ferry Nice Ferry Pembroke Ferry Plymouth Ferry Poole Ferry Portsmouth Ferry Rosslare Ferry Southampton Ferry Toulon Ferry Trieste Ferry Troon Ferry
Countries: Ferry to Denmark Ferry to England UK Ferry to France Ferry to Germany Ferry to Greece Ferry to Holland Ferry to Ireland Ferry to the Isle of Wight Ferry to Italy Ferry to Norway Ferry to Sardinia Ferry to Scotland Ferry to Sicily Ferry to Spain Ferry to Sweden