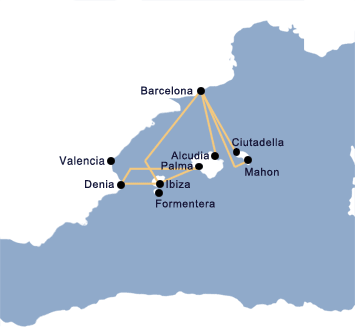 Formentera Ferry Port Information
Below is information about the port, and directions on how to get there. Tickets should be collected from the port office on arrival by showing your booking reference number.


The island of Formentera is the smallest and most southern of the Balearic Islands. It has a size of 84 square kilometres and a population of around 5,000. Its main charm is the natural environment and, most importantly, its beaches with white sand and transparent waters. Formentera is an almost entirely flat island except for two promontories, one on each end: Cap de Barbaria with the mountain Puig Guillem (109 metres) and Mola with its Talaiassa (192 metres), the highest point of the island. On the northern part of the island there are two salt-water ponds: s'Estany Pudent and s'Estany des Peix.
Formentera, the smallest of the Pitiuses islands, has only one municipality. Due to its characteristics it has been impossible to build an airport, and hence, the only communication with Formentera is by sea. From the larger Pitiusa island - Ibiza - the communication with the port la Savina is very good, with fast vessels and cargo vessels running this route frequently. The two islands are separated by 12 miles
---
Ferry Operators: Anek Lines Ferry Balearia Ferry Brittany Ferries Color Line Ferry Channel Island Ferries Corsica Sardinia Ferries DFDS Seaways Ferries Eurostar Paris Eurotunnel Fjordline Ferries Grandi Navi Veloci Hellenic Mediterranean Lines Ferry Hoverspeed Ferries Irish Ferries Minoan Lines Ferry Moby Lines Ferries Northlink Ferries P&O Ferries North Sea P&O Ferries Portsmouth P&O Ferries Dover Calais P & O Irish Ferries Pentland Ferries Red Funnel Ferries Scandlines Ferries SeaFrance Ferries SNCM Ferries Stena Line Ferry Superfast Ferries Rosyth Symril Line Ferries Venezia Lines Ventouris Ferries
Ferry Port Maps: Ancona Ferry Barcelona Ferry Bari Ferry Belfast Ferry Calais Ferry Cherbourg Ferry Civitavecchia Ferry Denia Ferry Dieppe Ferry Dover Calais Ferry Dover Ferry Dublin Ferry Fleetwood Ferry Formentera Ferry Genoa Ferry Harwich Ferry Heysham Ferry Holyhead Ferry Hook of Holland Ferry Hull Ferry Ibiza Ferry Larne Ferry Liverpool Ferry Livorno Ferry Majorca Ferry Minorca Ferry Newcastle Ferry Newhaven Ferry Nice Ferry Pembroke Ferry Plymouth Ferry Poole Ferry Portsmouth Ferry Rosslare Ferry Southampton Ferry Toulon Ferry Trieste Ferry Troon Ferry
Countries: Ferry to Denmark Ferry to England UK Ferry to France Ferry to Germany Ferry to Greece Ferry to Holland Ferry to Ireland Ferry to the Isle of Wight Ferry to Italy Ferry to Norway Ferry to Sardinia Ferry to Scotland Ferry to Sicily Ferry to Spain Ferry to Sweden