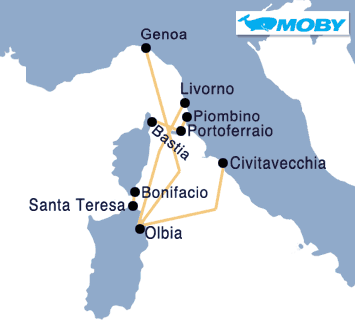 About Moby Lines Ferries
Allferries.co.uk has a partnership with Moby Lines Ferries allowing us to sell their routes online and in real time. Below is information about Moby Lines Ferries.

Moby Lines Ferries seeks to consolidate its position as established leader in the field of maritime transport to and from the islands of the Upper Tirrenian Sea, as well as introducing its brandname on new routes and into new markets.

Moby Lines Ferries aims to ensure thorough client satisfaction through its team of qualified managers and personnel: a young, highly motivated group, with deep sensitivity to evolving market demand.

On all of their ferries there is an area completely devoted to and designed especially for your children's playtime. There is a playroom for tots, just bursting with toys and playthings, as well as a snack bar, a pizzeria, a maxiscreen, videogames and music for teens.
---
Ferry Operators: Anek Lines Ferry Balearia Ferry Brittany Ferries Color Line Ferry Channel Island Ferries Corsica Sardinia Ferries DFDS Seaways Ferries Eurostar Paris Eurotunnel Fjordline Ferries Grandi Navi Veloci Hellenic Mediterranean Lines Ferry Hoverspeed Ferries Irish Ferries Minoan Lines Ferry Moby Lines Ferries Northlink Ferries P&O Ferries North Sea P&O Ferries Portsmouth P&O Ferries Dover Calais P & O Irish Ferries Pentland Ferries Red Funnel Ferries Scandlines Ferries SeaFrance Ferries SNCM Ferries Stena Line Ferry Superfast Ferries Rosyth Symril Line Ferries Venezia Lines Ventouris Ferries
Ferry Port Maps: Ancona Ferry Barcelona Ferry Bari Ferry Belfast Ferry Calais Ferry Cherbourg Ferry Civitavecchia Ferry Denia Ferry Dieppe Ferry Dover Calais Ferry Dover Ferry Dublin Ferry Fleetwood Ferry Formentera Ferry Genoa Ferry Harwich Ferry Heysham Ferry Holyhead Ferry Hook of Holland Ferry Hull Ferry Ibiza Ferry Larne Ferry Liverpool Ferry Livorno Ferry Majorca Ferry Minorca Ferry Newcastle Ferry Newhaven Ferry Nice Ferry Pembroke Ferry Plymouth Ferry Poole Ferry Portsmouth Ferry Rosslare Ferry Southampton Ferry Toulon Ferry Trieste Ferry Troon Ferry
Countries: Ferry to Denmark Ferry to England UK Ferry to France Ferry to Germany Ferry to Greece Ferry to Holland Ferry to Ireland Ferry to the Isle of Wight Ferry to Italy Ferry to Norway Ferry to Sardinia Ferry to Scotland Ferry to Sicily Ferry to Spain Ferry to Sweden