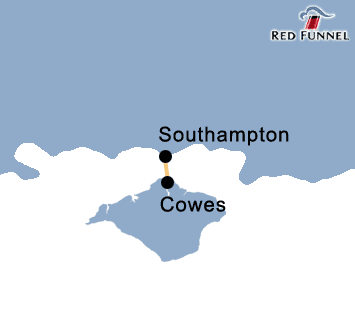 About Red Funnel Ferries
Allferries.co.uk has a partnership with Red Funnel Ferries allowing us to sell their routes online and in real time. Below is information about Red Funnel Ferries.

For over 140 years Red Funnel Ferries have sailed between Southampton, the gateway to the Isle of Wight and Cowes, the undisputed home of world yachting. If taking a vehicle, you can relax for 55 minutes, soak up the sun and breathe the sea air as you cruise between Southampton and East Cowes on Red Funnel Ferries passenger vehicle ferry service.

With services around the clock, 364 days a year, Red Funnel Ferries offer a range of competitive fares for commuters, day trip, weekend break and longer stay visitors.
---
Ferry Operators: Anek Lines Ferry Balearia Ferry Brittany Ferries Color Line Ferry Channel Island Ferries Corsica Sardinia Ferries DFDS Seaways Ferries Eurostar Paris Eurotunnel Fjordline Ferries Grandi Navi Veloci Hellenic Mediterranean Lines Ferry Hoverspeed Ferries Irish Ferries Minoan Lines Ferry Moby Lines Ferries Northlink Ferries P&O Ferries North Sea P&O Ferries Portsmouth P&O Ferries Dover Calais P & O Irish Ferries Pentland Ferries Red Funnel Ferries Scandlines Ferries SeaFrance Ferries SNCM Ferries Stena Line Ferry Superfast Ferries Rosyth Symril Line Ferries Venezia Lines Ventouris Ferries
Ferry Port Maps: Ancona Ferry Barcelona Ferry Bari Ferry Belfast Ferry Calais Ferry Cherbourg Ferry Civitavecchia Ferry Denia Ferry Dieppe Ferry Dover Calais Ferry Dover Ferry Dublin Ferry Fleetwood Ferry Formentera Ferry Genoa Ferry Harwich Ferry Heysham Ferry Holyhead Ferry Hook of Holland Ferry Hull Ferry Ibiza Ferry Larne Ferry Liverpool Ferry Livorno Ferry Majorca Ferry Minorca Ferry Newcastle Ferry Newhaven Ferry Nice Ferry Pembroke Ferry Plymouth Ferry Poole Ferry Portsmouth Ferry Rosslare Ferry Southampton Ferry Toulon Ferry Trieste Ferry Troon Ferry
Countries: Ferry to Denmark Ferry to England UK Ferry to France Ferry to Germany Ferry to Greece Ferry to Holland Ferry to Ireland Ferry to the Isle of Wight Ferry to Italy Ferry to Norway Ferry to Sardinia Ferry to Scotland Ferry to Sicily Ferry to Spain Ferry to Sweden