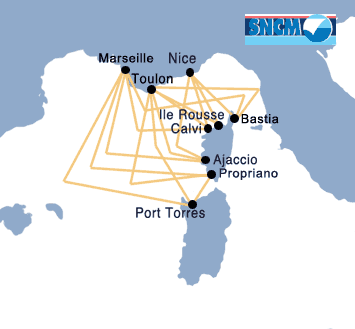 About SNCM Ferries
Allferries.co.uk has a partnership with SNCM Ferries allowing us to sell their routes online and in real time. Below is information about SNCM Ferries.

SNCM Ferries has provided the public maritime service to and from Corsica since 1976, and also inherited a very long-running service on the Algeria and Tunisia routes.

SNCM Ferries also provides the service to Sardinia on seasonal routes (April to September). Its subsidiary Corsica Marittima serves Italy (Genoa and Livorno) from Corsica (Bastia and Porto Vecchio) between March and September.

Now, due to the addition to the fleet of two high speed vessels (NGVs), and a new-generation car-ferry (the Napoléon Bonaparte), SNCM Ferries can provide two very competitive services to Corsica: the "Mini-cruise": Nice-Calvi in 2h 30min and Nice-Bastia in 3h 30min.
---
Ferry Operators: Anek Lines Ferry Balearia Ferry Brittany Ferries Color Line Ferry Channel Island Ferries Corsica Sardinia Ferries DFDS Seaways Ferries Eurostar Paris Eurotunnel Fjordline Ferries Grandi Navi Veloci Hellenic Mediterranean Lines Ferry Hoverspeed Ferries Irish Ferries Minoan Lines Ferry Moby Lines Ferries Northlink Ferries P&O Ferries North Sea P&O Ferries Portsmouth P&O Ferries Dover Calais P & O Irish Ferries Pentland Ferries Red Funnel Ferries Scandlines Ferries SeaFrance Ferries SNCM Ferries Stena Line Ferry Superfast Ferries Rosyth Symril Line Ferries Venezia Lines Ventouris Ferries
Ferry Port Maps: Ancona Ferry Barcelona Ferry Bari Ferry Belfast Ferry Calais Ferry Cherbourg Ferry Civitavecchia Ferry Denia Ferry Dieppe Ferry Dover Calais Ferry Dover Ferry Dublin Ferry Fleetwood Ferry Formentera Ferry Genoa Ferry Harwich Ferry Heysham Ferry Holyhead Ferry Hook of Holland Ferry Hull Ferry Ibiza Ferry Larne Ferry Liverpool Ferry Livorno Ferry Majorca Ferry Minorca Ferry Newcastle Ferry Newhaven Ferry Nice Ferry Pembroke Ferry Plymouth Ferry Poole Ferry Portsmouth Ferry Rosslare Ferry Southampton Ferry Toulon Ferry Trieste Ferry Troon Ferry
Countries: Ferry to Denmark Ferry to England UK Ferry to France Ferry to Germany Ferry to Greece Ferry to Holland Ferry to Ireland Ferry to the Isle of Wight Ferry to Italy Ferry to Norway Ferry to Sardinia Ferry to Scotland Ferry to Sicily Ferry to Spain Ferry to Sweden