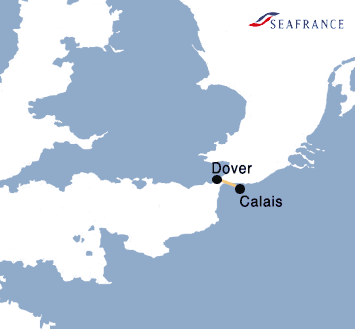 About SeaFrance Ferries
Allferries.co.uk has a partnership with SeaFrance Ferries allowing us to sell their routes online and in real time. Below is information about SeaFrance Ferries.

SeaFrance Ferries is the only French operator between Dover and Calais, the SeaFrance Ferries fleet currently consists of four vessels including our new super ferry the SeaFrance Ferries Rodin which joined the fleet in November 2001.

The SeaFrance Ferries aim is to make your journey as effortless and as enjoyable as possible. On board, children of all ages are accommodated in safe, spacious environments. During the crossing, children can rest or have fun amongst the soft foam shapes. Or, if they prefer, they can sit quietly and watch their favourite cartoons.
---
Ferry Operators: Anek Lines Ferry Balearia Ferry Brittany Ferries Color Line Ferry Channel Island Ferries Corsica Sardinia Ferries DFDS Seaways Ferries Eurostar Paris Eurotunnel Fjordline Ferries Grandi Navi Veloci Hellenic Mediterranean Lines Ferry Hoverspeed Ferries Irish Ferries Minoan Lines Ferry Moby Lines Ferries Northlink Ferries P&O Ferries North Sea P&O Ferries Portsmouth P&O Ferries Dover Calais P & O Irish Ferries Pentland Ferries Red Funnel Ferries Scandlines Ferries SeaFrance Ferries SNCM Ferries Stena Line Ferry Superfast Ferries Rosyth Symril Line Ferries Venezia Lines Ventouris Ferries
Ferry Port Maps: Ancona Ferry Barcelona Ferry Bari Ferry Belfast Ferry Calais Ferry Cherbourg Ferry Civitavecchia Ferry Denia Ferry Dieppe Ferry Dover Calais Ferry Dover Ferry Dublin Ferry Fleetwood Ferry Formentera Ferry Genoa Ferry Harwich Ferry Heysham Ferry Holyhead Ferry Hook of Holland Ferry Hull Ferry Ibiza Ferry Larne Ferry Liverpool Ferry Livorno Ferry Majorca Ferry Minorca Ferry Newcastle Ferry Newhaven Ferry Nice Ferry Pembroke Ferry Plymouth Ferry Poole Ferry Portsmouth Ferry Rosslare Ferry Southampton Ferry Toulon Ferry Trieste Ferry Troon Ferry
Countries: Ferry to Denmark Ferry to England UK Ferry to France Ferry to Germany Ferry to Greece Ferry to Holland Ferry to Ireland Ferry to the Isle of Wight Ferry to Italy Ferry to Norway Ferry to Sardinia Ferry to Scotland Ferry to Sicily Ferry to Spain Ferry to Sweden