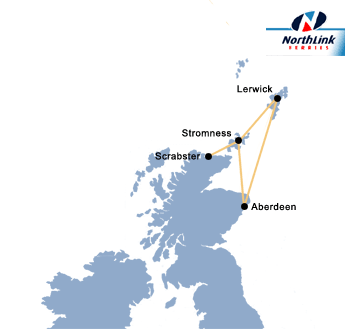 About Northlink Ferries
Allferries.co.uk has a partnership with Northlink Ferries allowing us to sell their routes online and in real time. Below is information about Northlink Ferries.

The Northlink Ferries brand new state-of-the-art ships will take you on a voyage of discovery to the islands of Orkney and Shetland. Their extensive timetable makes travelling to Orkney and Shetland more convenient than ever before.

Northlink Ferries have designed and built their ferries to the highest standards in terms of both safety and comfort. The Northlink Ferries a la carte and self service restaurants offer a wide range of menus featuring local produce. Each Northlink Ferries also provides spacious lounge areas, bars, children's play areas and comfortable en-suite cabins. A modern cinema showing the latest releases is available on our longer routes.
---
Ferry Operators: Anek Lines Ferry Balearia Ferry Brittany Ferries Color Line Ferry Channel Island Ferries Corsica Sardinia Ferries DFDS Seaways Ferries Eurostar Paris Eurotunnel Fjordline Ferries Grandi Navi Veloci Hellenic Mediterranean Lines Ferry Hoverspeed Ferries Irish Ferries Minoan Lines Ferry Moby Lines Ferries Northlink Ferries P&O Ferries North Sea P&O Ferries Portsmouth P&O Ferries Dover Calais P & O Irish Ferries Pentland Ferries Red Funnel Ferries Scandlines Ferries SeaFrance Ferries SNCM Ferries Stena Line Ferry Superfast Ferries Rosyth Symril Line Ferries Venezia Lines Ventouris Ferries
Ferry Port Maps: Ancona Ferry Barcelona Ferry Bari Ferry Belfast Ferry Calais Ferry Cherbourg Ferry Civitavecchia Ferry Denia Ferry Dieppe Ferry Dover Calais Ferry Dover Ferry Dublin Ferry Fleetwood Ferry Formentera Ferry Genoa Ferry Harwich Ferry Heysham Ferry Holyhead Ferry Hook of Holland Ferry Hull Ferry Ibiza Ferry Larne Ferry Liverpool Ferry Livorno Ferry Majorca Ferry Minorca Ferry Newcastle Ferry Newhaven Ferry Nice Ferry Pembroke Ferry Plymouth Ferry Poole Ferry Portsmouth Ferry Rosslare Ferry Southampton Ferry Toulon Ferry Trieste Ferry Troon Ferry
Countries: Ferry to Denmark Ferry to England UK Ferry to France Ferry to Germany Ferry to Greece Ferry to Holland Ferry to Ireland Ferry to the Isle of Wight Ferry to Italy Ferry to Norway Ferry to Sardinia Ferry to Scotland Ferry to Sicily Ferry to Spain Ferry to Sweden